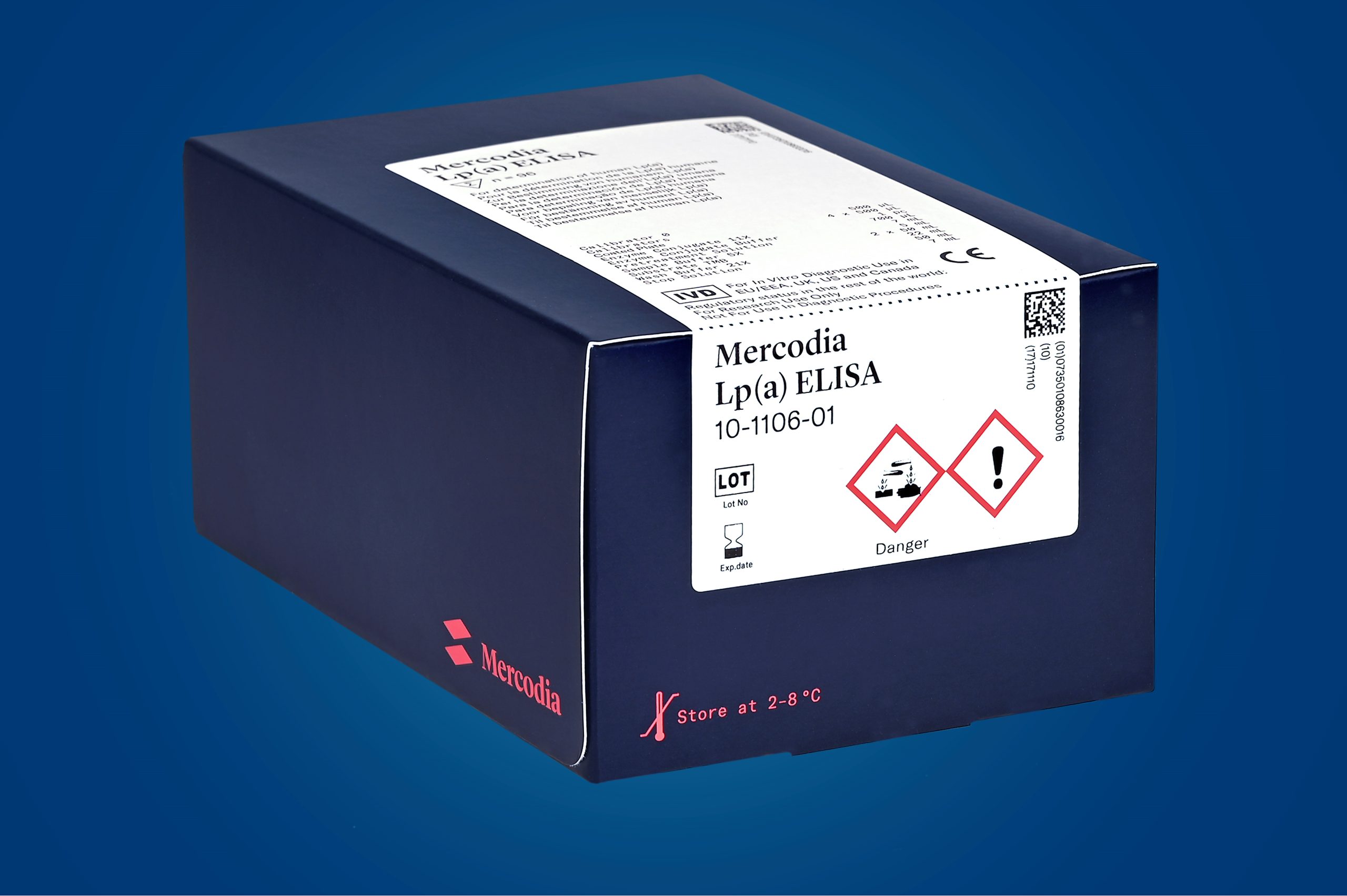 Lp(a) ELISA
(10-1106-01)
Kit format: 1 x 96 wells
Measurement range: 0.3-5.0 U/L
Calibrated against a highly purified, fully validated, commercial Lp(a) preparation.
CE/IVD labeled on selected markets
Description
Mercodia Lp(a) ELISA provides a method for the quantitative determination of human Lipoprotein (a) in serum or plasma.
It is a solid phase two-site enzyme immunoassay based on the sandwich technique, in which two monoclonal antibodies are directed against separate antigenic determinants on the apolipoprotein(a) molecule. Apolipoprotein(a) in the sample reacts with anti-apolipoprotein(a) antibodies bound to microtitration wells and peroxidase-conjugated anti-apolipoprotein(a) antibodies in the solution.
Test characteristics
Samples
Serum, EDTA and heparin plasma
Assay range
0.3 - 5.0 U/L
Detection limit
≤0.07 U/L
Incubation
1 h + 1 h + 15 min
Detection method
Absorbance
specificity
The following cross-reactions have been tested:
Apolipoprotein B
Not detected
directions for use & Safety Data Sheet
For other languages and older versions:
Technical Library
references
Enkhmaa, B., Anuurad, E., Zhang, W., Kim, K. & Berglund, L. (2019) Heritability of apolipoprotein (a) traits in two-generational African-American and Caucasian families. J. Lipid Res. 60, 1603–1609. Read more >
Low, H. et al. (2019) HIV disease, metabolic dysfunction and atherosclerosis: A three year prospective study. PLoS One 14, e0215620. Read more >
Question about the product? Contact us